A HIGHLY AVAILABLE AND SECURE PROFESSIONAL MESSAGING SYSTEM
Most companies have neither the skills nor the human and technical resources needed to manage and secure their messaging system.
Optimails makes it possible to quickly obtain a highly available, secure and accessible service from anywhere.
No server, no license and payment on demand
Optimails is a SaaS messaging system that does not require any server installation or maintenance and does not require the purchase of a license. The invoicing is done by use per user and per month.
So you only pay for what you consume 
and you can adjust your consumption in real time.
Operating Principle
At the office or on the road, Optimails allows your users to instantly access their messaging, calendar, contact books, and in a totally secure way. The administrator of the solution can manage the usage options of the Optimails service by accessing a secure administration console. The e-securemail email security solution is natively integrated to Optimails. The Optimails users thus benefit from a powerful and scalable Antispam and Antivirus solution in the face of various email threats.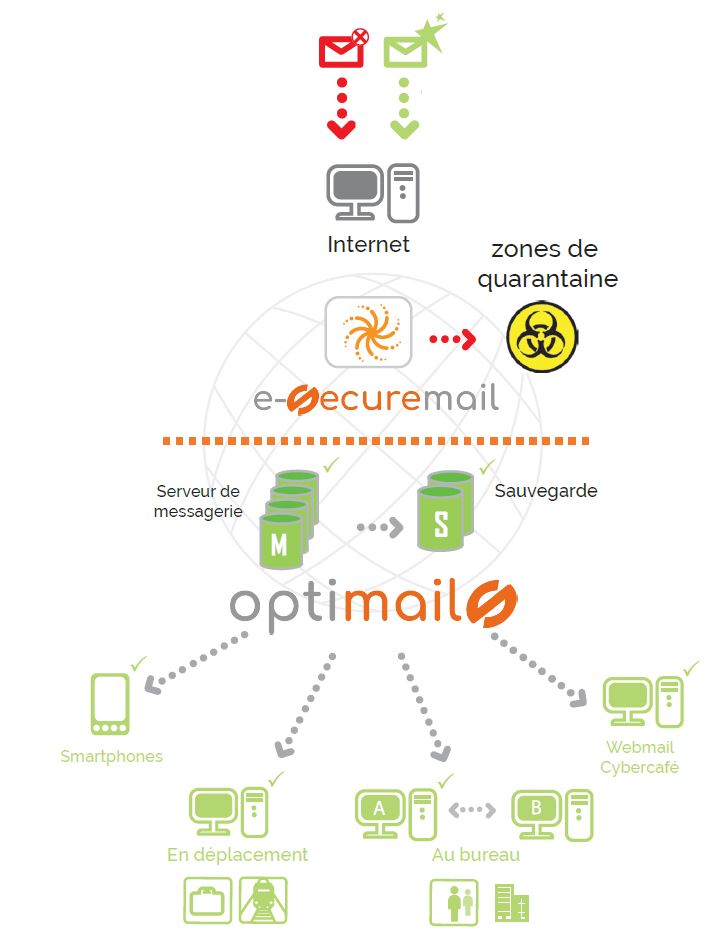 The guarantee of a quality service
Because our customers want to focus on their core business with complete peace of mind, we guarantee the quality of our services. All of our Optimails users have detailed guaranteed service levels (SLAs) subject to penalty clauses. For the Optimails service, Secuserve guarantees the quality :
Messaging availability rate 99.95
100% relay availability rate
Message processing time of less than 60 seconds*.
Secuserve also guarantees security:
100% virus protection
99% spam protection
False-positive rate of less than 0.01% (i.e. 1 message in 10,000 wrongly considered SPAM)
* For a message of an average size not exceeding 2 Mb
Comparative table of functionalities
While some users may be satisfied with simple, secure and mobile mailboxes, other users have more extensive needs in terms of information sharing and/or storage. In order to meet these functional needs and to optimize budget expenditures, Optimails services are available in four versions.
All our Optimails services benefit from the e-securemail email filtering and security service.
All our Optimails services are compatible with each other, including Optimails SHEX (Secuserve Hosted EXchange, based on a 100% MS-Exchange technology).
Features
BASIC
PREMIUM
SHEX

SECURITY & ADMINISTRATION

> Mailbox Size
1Go
25Go
up to 60Go
> e-securemail PRO service: SMTP relaying, antivirus x4, antispam x16, content, attachments, signature and legal mentions
✔
✔
✔
> 24 x 7 online administration and reporting console
✔
✔
✔
> Backup and restore
1 year
1 year
21 days
> Secure access to BALs and high availability 99.99% 24 x 7
✔
✔
✔

Collaborative functions & OUTLOOK

> Collaborative functions under OUTLOOK: sharing calendars, contacts, tasks, email folders...
✔
✔
> Mobile BriefCase: document sharing and digital safe
option
1Go
> OUTLOOK Open Folders: sharing large documents
option
> Multi-mode synchronization: OUTLOOK, Webmail
✔
✔
> Synchro-Smartphone: multi-mode synchronization of messaging (received and sent), calendars, contacts
option
✔
✔

MESSAGERY & Advanced Office

> POP3/IMAP access (OUTLOOK or other mail client) and webmail
✔
✔
✔
> Unlimited number of aliases and distribution list
✔
✔
✔
> Redirection and collection of third party addresses
✔
✔
✔
> Personal and company address book
✔
✔
✔
> Personal Calendar
✔
✔
✔

MOBILITY & Web 2.0

> Pronto! (HTML5)
✔
✔
> OWA Access (Outlook Web Access)
✔
> Availability control (free/busy) and group agenda
✔
✔
> Collaborative functions in Webmail :
Sharing calendars, contacts, tasks, mail folders...
✔
✔
> Online video function
✔
✔
> Mobile Access
✔
✔
✔

OPTIONS

> 5GB Extra-Drive
option
option